Investor/Media Information
Corporate Profile
Abeona Therapeutics is focused on developing and delivering gene therapy and plasma-based products for severe and life-threatening rare diseases. Developing therapies for rare disease requires new approaches and strong collaboration between researchers, industry, regulators and patient groups. Abeona was forged from the company's close collaborations with key stakeholders all dedicated to transforming new biotechnology insights into breakthrough treatments for rare diseases such as Sanfilippo disorder, Batten disease, Fanconi anemia and other rare disorders.
Stock Chart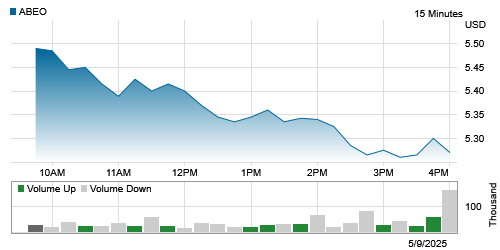 Stock Quote
ABEO
$2.47
 + 0.08
 (3.35%)
Upcoming Events
There are currently no events scheduled.
Receive Email Alerts

Sign up to receive email alerts whenever Abeona Therapeutics posts new information to the site. Just enter your email address and click Submit.
Data provided by Nasdaq. Minimum 15 minutes delayed.